Lockerbie families welcome identification of new Libyan suspects
Comments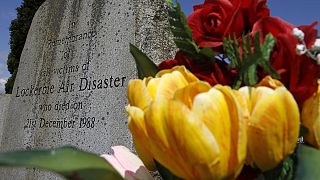 Families of some of the 270 people killed in the Lockerbie airline bombing have welcomed news that two new Libyan suspects have been identified by Scottish and US investigators.
One is understood to be Abdullah al-Senoussi, Colonel Gaddafi's former intelligence chief.
The other is thought to be Abu Ajeela Mas'ud – the man identified in the newly-aired documentary 'My Brother's Bomber' made by Ken Dornstein whose brother David died in the attack.
2 days after Ken Dornstein's film, U.S. & Scotland eye 2 new suspects in Lockerbie bombing http://t.co/jEqq6gtsjDpic.twitter.com/OEUGUwxv5l

— FRONTLINE (@frontlinepbs) 16 Octobre 2015
"I hope that there is a moment where he can stand trial, the evidence could be put to him, the questions could be put to him and we can find out once and for all whether he was the bomb expert in this case and whether the entire theory of who carried it out and why, that I believe is true, is actually true," Dornstein said.
Pam Am flight 103 was blown up over the Scottish town of Lockerbie on December 21, 1988 en route from London to New York
In 2001, Libyan Abdel Basset al-Megrahi was jailed for life and remains the only person to have been convicted over the bombing.
Megrahi, who protested his innocence, died in Libya in 2012.
He had been released three years earlier by Scotland's government on compassionate grounds after being diagnosed with terminal cancer. His family and some relatives of the Scottish victims believe he was wrongly convicted.
As regards the new Libyan suspects, questioning them may prove difficult.
Both are said to be imprisoned in the war-torn country where two rival governments are vying for control.