30 years since Lockerbie disaster killed 270 people
Comments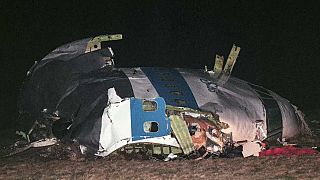 Bill Neely is NBC News' Chief Global Correspondent. He reported on the Lockerbie bombing at the time and covered the trial of Abdelbaset al-Megrahi at The Hague. 30 years on he looks back on the tragedy that destroyed so many lives.
Lockerbie was a local tragedy, and a global outrage. A fully laden plane crashing into a small town and exploding like a huge bomb, killing eleven people on the ground and all 259 on board - among them 35 students from America's Syracuse University.
The plane and its passengers were never meant to be found. The bombers set the timer so it would explode over the Atlantic Ocean and disappear. But it was late taking off.
From the thousands of bits of debris, which are still being found today, investigators pieced together a bomb in a suitcase in the hold.
From there the painstaking trail led to Malta, Frankfurt, where the bag was transferred but ultimately to Tripoli and a Libyan official called Abdelbaset al-Megrahi. He and another man were put on trial.
Megrahi convicted and jailed. But many of the relatives never believed Libya's guilt, even though its leader Colonel Gaddafi accepted responsibility and paid compensation. Gaddafi had a motive - the bombing of Libya by American warplanes.
But many pointed at Iran and another plausible motive of revenge. A year before Lockerbie, a US warship, the USS Vincennes, had shot down an Iranian passenger plane in Iranian airspace, killing all 290 on-board. The crew were even filmed celebrating. Iran, in mourning was furious.
For the US, neither Libya, nor Iran could entirely be ruled out or forgiven. For Britain, Lockerbie remains its deadliest act of terror. And for those rescuers, journalists and police who saw passengers still strapped in their seats, in trees, children lying broken in fields, the nose cone astonishingly intact in a Scottish field - and all of this just before Christmas, it was and remains a horrific act of terror.