Hungary to seal off border with Croatia
Comments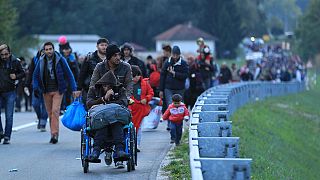 Hungary plans to seal off its border with Croatia from midnight.
The thousands arriving daily on trains from Serbia will be greeted by razor wire they can neither cross or go around.
Officials say inaction by Brussels means Budapest must protect the external frontiers of the EU's passport-free Schengen zone.
Hungarian Foreign Minister Peter Szijjarto described it as the second-best solution, not the best one: "The best solution was not reached during the European Council meeting, since there was no agreement on defending the external border in Greece."
Crossing points will remain open and requests for asylum will be accepted in two transit zones.
Wire fences have been already been erected between Hungary, Serbia and Croatia.
Up to 8000 people a day are arriving in Croatia.
Travelling on to tiny Slovenia or remaining stranded in Croatia are the two options now remaining for these people.