Former Soviet nations to crackdown on ISIL fighters
Comments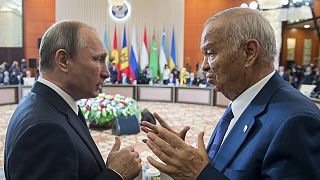 Leaders of ten former Soviet republics have agreed to create a joint task force to defend their borders in the event of a crisis.
Russian president Vladimir Putin briefed leaders of CIS nations, the Commonwealth of Independent States, at a summit in Kazakhstan.
He stressed the importance of a joint crackdown on fighters from the so-called Islamic State or ISIL in Syria.
Putin said thousands of citizens of Russia and other CIS countries are already fighting for ISIL and they cannot be allowed to use the experience gained in Syria back home.
The possible location for the deployment of joint forces is Tajikistan, which borders Afghanistan.
It remained unclear whether Uzbekistan and Turkmenistan would also host the new forces.
As US-led troops gradually withdraw from Afghanistan, leaving behind a power vacuum. Some analysts say that could leave room for Russian troops to be deployed to Afghanistan's borders as part of the collective forces.
The Kremlin says Russia wants to stop the spread of Islamist militancy.