Ankara bombing 'AK Party game' says suspect
Comments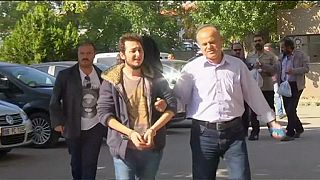 Three suspects of last week's Ankara bombings have appeared in court.
The official line from Turkey's ruling AK party is that ISIL was likely behind the attack but the group has not claimed responsibility.
As the investigation continued, the prosecutor imposed a media blackout on reporting about the attack.
One of the three suspects called appealed to reporters waiting outside the courthouse. "The press has to support me, he said. "This is an AK Party game. The AK Party wants to cover-up its own mess."
Many protesters have accused the Turkish state at best of intelligence failings and at worst of complicity in the bombings.
The Turkish Medical Association – which helped organise a peace rally which was targeted by the twin bombings – has pointed the finger of blame at the ruling AK Party.
The two bombs exploded seconds apart at the rally near Ankara's main train station.
At least 102 people were killed in the twin bombings which came three weeks ahead of a general election.