Osorio presented as new Mexico coach
Comments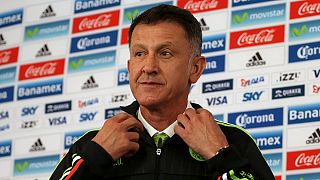 Juan Carlos Osorio was unveiled as the new coach of the Mexico national football team this week.
The 54-year-old Colombian takes over from interim boss Ricardo "Tuca" Ferretti who temporary filled the position after his predecessor Miguel Herrera was fired for allegedly punching a reporter.
At his presentation to the media Osorio, who has previously coached the New York Red Bulls, said: "When the opportunity in Mexico came, we didn't take a second. We think it's a football nation and the Mexican player believes in this type of football, to get up out front and look for results. I think it's in line with our own way of seeing football."
It is the first time Osorio has coached a national team but has had stints at the helm of Millonarios and Puebla in his native Colombia.
His first couple of matches in charge of Mexico will be against El Salvador and Honduras in the first half of November.