Myanmar's president hails ceasefire deal with rebels as "historic"
Comments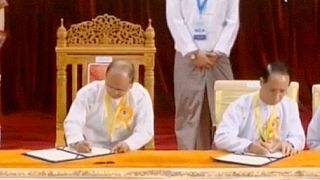 The government of Myanmar and eight ethnic rebel armies have signed a ceasefire that the participants hope will end more than six decades of conflict. However several more powerful groups, like the Kachin Independence Army, the Shan State and United Wa State armies, have refused to sign up.
The EU, US, China and others witnessed the signing ceremony, which comes just before the November 8 parliamentary elections.
The opposition leader Aung San Suu Kyi did not attend the signing in Myanmar's newish capital, Naypyitaw.
The deal has needed two years of tough negotiations to conclude, and did not manage to involve seven of the 15 armed groups opposed to the central government, but the Karen National Union, which has maintained the longest struggle, nearly 70 years, did take part.
There have been accusations that the Kachin and Wa, based close to the Chinese border, were pressured by Beijing not to sign.