El Chapo: hammering heard on escape video
Comments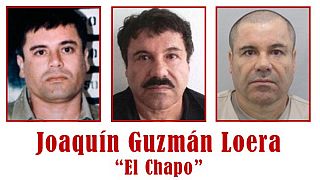 Loud hammering can be heard on a video showing the escape of a notorious drugs baron from prison in Mexico.
Joaquin Guzman, known as "El Chapo" turned up the sound on his television to drown out the noise as accomplices broke through the floor under the shower, the only blind spot in the cell.
His guards do not arrive until 30 minutes later.
Officials now suspect the 58-year-old may have had inside help to escape from the maximum- security Altiplano prison.
Senator Alejandro Encinas says the authorities lied and hid information. "It shows that all of the investigation so far has been built on fiction. It is obvious that everyone, all of the workers and officials there at the time in the prison were in on the jailbreak and are responsible."
The head of the Sinaloa cartel escaped through a 1.5 kilometre long tunnel on a motorbike fixed to metal rails.
34 people have been arrested in connection with the jailbreak but Guzman is still at large.
He had escaped once before in 2001 by hiding himself in a basket of dirty laundry.
He was re-arrested in early 2014 after 13 years on the run.