#Ramnicu Sarat: ex-commander appeals against 20-year sentence
Comments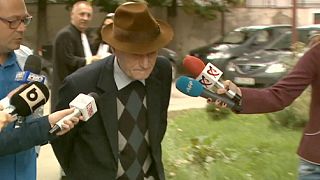 A former commander of one of Romania's most notorious prisons refused to talk to journalists when he arrived at court in Bucharest.
Alexandru Visinescu is appealing against a 20 year sentence for crimes against humanity, handed down in July.
Alexandru Visineșcu jefe d Râmnicu Sărat prisión infame comunista de Rumania – condenados por delitos contra DDHH! pic.twitter.com/pKidZaqgEu

— John Hayes (@Maddygram) 25 Juillet 2015
The 90-year-old insists he was simply following orders and has shown no remorse for his alleged crimes.
The relatives of those who died are more interested in getting answers than revenge: "We have asked for more information about what he did," said Mihaela Barbus, who is the daughter of one of the detainees,"we are not asking for a longer sentence because that makes no sense given his age. But people need to know what he did. We want to preserve the memory of the heroes at Ramnicu Sarat."
"The silence of Hell"
At least 14 people are known to have died at Ramnicu Sarat between 1956 and 1963, when Alexandru Visinescu was in charge.
Romania's communist regime lasted from 1947 to 1989. More than 600 000 people were held as political prisoners during that time.
Prisoners were kept in solitary confinement and endured extreme cold and a lack of food.
Severe punishments were regularly doled out.
Romania: Communist-Era Prison Guard Appeal Adjourned: Alexandru Visinescu, commander of the Ramnicu Sarat pris… http://t.co/I1siJUGIwZ

—

VOFN

Romania (@vofnromania) 14 Octobre 2015
The judges hearing the case have set the 25th of November as the date for Visinescu's next appearance.