Israeli troops and Palestinian protesters clash in Bethlehem
Comments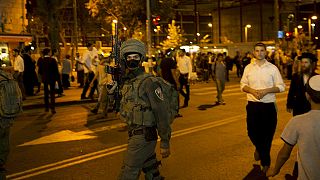 Israel Defense Forces (IDF) and Palestinian protesters clashed in the West Bank city of Bethlehem on Wednesday (October 14).
The IDF is deploying hundreds of soldiers in a bid to stem a wave of deadly violence between Israelis and Palestinians.
Israel's security cabinet authorised police to block off roads in Palestinian neighbourhoods in East Jerusalem in response to the killing of three Israelis by Palestinians armed with knives and a gun on Tuesday (October 13).
Palestinian officials condemned the crackdown as collective punishment.
Israeli police say a Palestinian man was shot dead after he tried to stab a police officer at an entrance to Jerusalem's walled Old City.
In another incident, a Palestinian stabbed and wounded a 70-year-old woman outside Jerusalem's central bus station before an officer shot him dead.
Violence has been triggered in part by Muslim agitation over increasing Jewish visits to the al-Aqsa mosque compound in Jerusalem.
There is also deep-seated frustration with the failure of years of peace efforts to achieve Palestinian statehood and end Israeli settlement-building in the occupied territories.