German prosecutors investigate Dresden mock gallows protest
Comments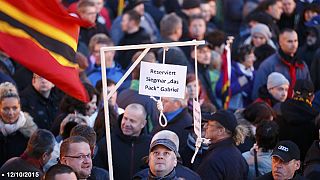 Prosecutors in the German city of Dresden are investigating whether a protester carrying a makeshift gallows can be charged with causing a disturbance of the peace and public incitement to committing a crime.
The gallows in question had a sign reading "Reserved for Mama Angela Merkel."
Many refugees refer to the chancellor as Mama because they consider her some kind of mother figure.
It's also used as a derogatory term by some of her opponents.
Thousands of people marched through Dresden in support of the anti-Islam movement PEGIDA on Monday.