Brown bear shot in shopping mall in eastern Russia
Comments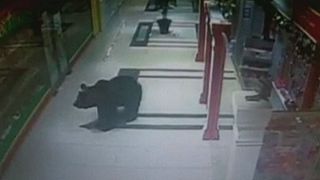 A Russian brown bear has become trapped in a shopping mall in the eastern city of Khabarovsk.
Shopping mauled - rampaging Russian bear trashes stores http://t.co/IXrS8lEDUopic.twitter.com/Yy1rePd3Rc

— The Straits Times (@STcom) October 14, 2015
CCTV footage showed the traumatised bear roaming round the empty shopping centre.
The animal was eventually shot by police.