Playboy magazine to stop publishing naked pictures
Comments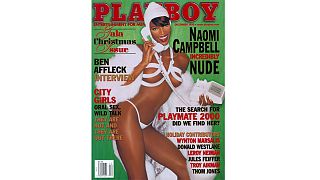 Playboy magazine will stop publishing pictures of naked models after deciding that the approach was no longer working following an explosion of accessibly pornography online.
The New York Times reports that the magazine's 89-year-old founder, Hugh Heffner backed the approach which will be implemented from March.
"You're now one click away from every sex act imaginable for free. And so it's just passé at this juncture," said Scott Flanders, Playboy's chief executive.
Women in "provocative" poses will still be featured, the newspaper reported, as the magazine follows in the footsteps of its online counterpart, which ditched nudes this year to gain access to social media platforms like Facebook.
In its 1970s heyday, Playboy's circulation regularly exceeded 5 million copies as it combined erotic content with interviews with major political and cultural figures. However, it has struggled to maintain its impact as the media landscape and social habits have changed.
Playboy is doing what?!? http://t.co/5ikkKtPbjDpic.twitter.com/c0IHGE0kdG

— Playboy (@Playboy) octubre 13, 2015