Palestinian 'knife rebellion' in Israeli-occupied West Bank
Comments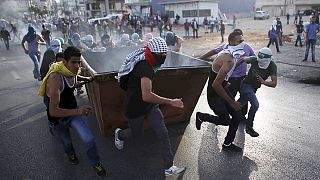 The recent storm of violence in Jerusalem and the Israeli-occupied West Bank began on this road between the Jewish settlements of Itamar and Elon Moreh. On 1st October a settlers' car was fired on, killing a mother and father. Their four children were not hit.
We are currently in a period of eruption, that is either connected or not connected to the Temple Mount.
Israel's defence minister Moshe Ya'alon pointed the finger at Palestinian self-rule: "We are currently in a period of eruption, that is either connected or not connected to the Temple Mount. Unfortunately, the issue here is the incitement of the Palestinian Authority, and especially its president. It all brings to murder and bloodshed."
The following day, two men were stabbed to death with knives in Jerusalem's Old City, and a woman and a child were seriously hurt by the Palestinian attacker.
Since then, knife attacks have come almost daily, with firearms appearing, and protests with stones, firecrackers, a car ramming, and Israeli forces fatally shooting around two dozen Palestinians, many of whom had knifed people.
The attackers are identified as lone operators, not in an organisation, acting sporadically and spontaneously, therefore hard to guard against. The Jewish settlers of the West Bank demand that building must continue. They insist a crackdown is needed to prevent a third intifada uprising. The last one was 2000-2005.
Settler leader David Pearl, Mayor of Gush Etzion Regional Council, said: "You have to find the [terror] leaders, you have to send the terrorists and kill them and destroy all the bases all over Israel, and maybe out[side] of Israel too."
Yet this upsurge of violence is without a chain of command. Any possible coordination appears to be lateral, passing among young Palestinians through online social media. It is feared the bloodshed reflects a new generation's frustrations over their longtime leadership's failure to achieve statehood.
Palestinians see increasing visits over the past year by Jewish groups and right-wing lawmakers to the al-Aqsa Mosque on Temple Mount, revered in Judaism as the site of two destroyed biblical temples, as eroding Muslim religious control of the compound. In spite of Israeli Prime Minister Benjamin Netanyahu saying this will not be changed, the knives have come out.