Iran's parliament backs nuclear deal
Comments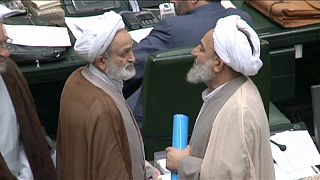 Iran's parliament on Tuesday (October 13) approved the nuclear deal struck with world powers in July, according to state media.
With 161 votes for and 59 against, the vote marked a clear victory for the government over conservatives who argued that the deal was more favourable to Western powers than to Tehran.
The agreement between Iran and the so-called P5+1 — the United States, Britain, France, China and Russia plus Germany — was reached in Vienna on July 14 after almost two years of negotiations.
Under the deal, Iran pledged to curb its sensitive nuclear activities in exchange for an end to the economic sanctions that crippled its economy.
Tuesday's vote removes a major obstacle to putting the agreement into practice.
However, Iranian MPs insisted that international inspectors would have only limited access to domestic military sites, which means disagreements could still arise.
Iran has repeatedly said its nuclear programme is peaceful.