France strikes at French jihadists in ISIL training camps in Syria
Comments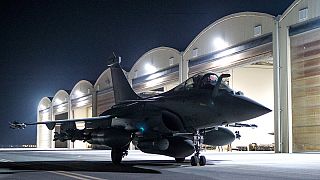 French airstrikes on ISIL targets in Syria have killed a number of French jihadists, according to a source close to Prime Minister Manuel Valls.
French airstrikes against #IS targets last night Before / After 8 AASM dropped by 2 #Dassault#Rafale jets pic.twitter.com/b7lLRrZEA4

— Tom Antonov (@Tom_Antonov) October 9, 2015
The French Defence Ministry has confirmed that French citizens were present in an ISIL training camp that was hit by French aircraft last week.
The French prime minister is currently on a visit to Jordan:" As soon as we learn a terrorist attack is being planned in Syria, we have an obligation to strike ISIL in the name of legitimate defense and we will keep doing that, no matter what nationality," he said.

Happening Now: His Majesty King Abdullah II meets with Prime Minister of #France, Manuel Valls #Jordanpic.twitter.com/5j9PqoOzO9

— RHC (@RHCJO) October 11, 2015
Meanwhile Iraqi aircraft have hit the convoy of ISIL leader Abu Bakr al – Baghdadi.
The attack happened in the western Anbar province.
Hospital authorities in the area say several jihadists were killed or injured in the strike, but al- Baghdadi was not among them.
#IslamicState chief Abu Bakr al-Baghdadi 'not among those' killed in Iraqi air strikes http://t.co/pRIvDjHCEOpic.twitter.com/3HH95gGH5C

— Hindustan Times (@htTweets) October 12, 2015