Palestinians bury pregnant woman and toddler killed in Israeli airstrike
Comments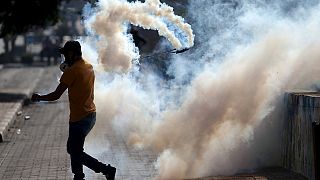 Palestinians in Gaza buried a pregnant Palestinian woman and a toddler killed in an Israeli airstrike, as violence continued to rage in the Middle East on Sunday.
Amid tensions over a sacred site in Jerusalem revered by Muslims and Jews, at least 23 Palestinians and four Israelis have now died in 12 days of bloodshed.
Israel's airstrike in the Gaza Strip was in response to cross-border rocket fire.
It said a Hamas facility was targeted. Palestinian medical officials say the woman and her young daughter died when their house nearby collapsed.
Convening his cabinet in Jerusalem amid warnings of a new Intifada, Israel's Prime Minister Benjamin Netanyahu has cautioned there will be no "quick fix" to what he called a "wave of terrorism".
He also reinforced security, amid reports of more knife attacks on Israelis by Palestinians and
of at least one more Palestinian being shot dead by Israeli security forces.
Palestinian sources say hundreds of people were injured in clashes on Sunday alone in violence that has engulfed Israel, the West Bank and Gaza.