Manhunt begins in Turkey for authors of nation's worst-ever terrorist atrocity
Comments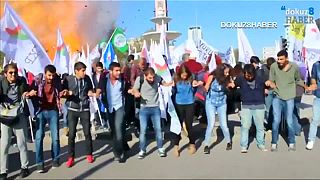 Turkey is reeling from its worst-ever terrorist attack, which left 95 people dead and nearly 250 injured, 48 seriously.
Eyewitnesses say two suicide bombers attacked a peace rally held by the progressive HDP party, which supports the Kurds, but this has not been confirmed. No-one has yet claimed responsibility.
A general election looms on November 1, and this atrocity could change the course of the campaign. The prime minister went to hospitals in Ankara overwhelmed with the victims, and soon after spoke to the nation, naming his government's main suspects.
"We will continue our investigation regarding this attack. At the moment, potential groups that can carry out such an attack are obvious: ISIL, the PKK, and the Leftist MLKP and DHKP-C," said Ahmet Davutoglu.
The HDP's leader Selahattin Demirtas had few doubts that the government was to blame for the attack, either by negligence or design, an accusation Davutoglu slammed as a "provocation".
For his ruling AK party the HDP is the force stopping it from getting an absolute majority, and in this climate it may enable the AKP to scare voters to the polls in its favour. But for the moment all campaigning has been suspended.