Belarus election: Strongman Lukashenko poised for fifth presidential term
Comments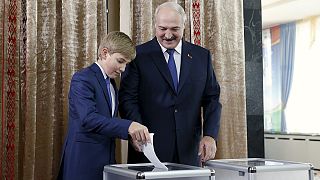 Authoritarian President Alexander Lukashenko is virtually guaranteed re-election for a fifth term as Belarus goes to the polls on Sunday.
Lukashenko – a man sometimes styled 'Europe's last dictator' – has been in firm command of the country for 21 years.
And with leading opposition figures either barred from challenging him or urging a boycott of the vote, his firm grip on power is set to remain.
There is also a fear of change in Belarus, amid turbulent times on its doorstep, as political analyst Alexander Klaskovski explains.
"On the one hand, people are not happy about the drop in living standards. For the first time, Alexander Lukashenko has not been able to guarantee a rise in incomes," he said.
"But for now, all of that has been minimised by the Ukrainian factor. Voters have been frightened by the events in Ukraine."
Belarus votes as Lukashenko aims to extend 21-year rule http://t.co/OdEIGaiKcspic.twitter.com/BKBHq1q28j

— Agence France-Presse (@AFP) October 11, 2015
A wily operator, Lukashenko has kept his country in a close strategic alliance with Russia.
But the long-time leader seeks to counterbalance this by making occasional overtures to the West where he has been ostracised for his human rights record and clampdown on political dissent.
Yet his hosting of peace talks for Ukraine in February and pardoning of six jailed political prisoners in August have helped thaw relations with the European Union which will be keeping a close eye on how the election unfolds.
Monitors from the Organisation for Security and Co-operation in Europe (OSCE) will report back to the EU following the vote.
And barring any last-minute crackdown – there were mass protests and the imprisonment of leading opposition figures last time around – diplomatic sources suggest that the EU will suspend its sanctions on Belarus for at least four months.