Israel braces itself for Friday prayers protests as violent attacks continue
Comments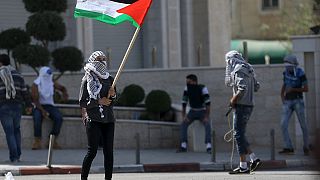 Four more stabbing attacks in Israel on Thursday have led to fears of more violence after the conclusion of Friday prayers, so Israel is stepping up security and warning people to be vigilant.
Two Palestinians were shot dead, one in Tel Aviv when he attacked a small group with a screwdriver, and another in Jerusalem.
"We are in the midst of a wave of terror. There is no magic solution and the actions we are taking will not yield instant results, but with methodical determination we will prove that terror does not pay and we will defeat it," said Prime Minister Benjamin Netanyahu.
Palestinian President Mahmoud Abbas has appealed for people not to "militarise" protests, but clashes are erupting like wildfires in the West Bank, too. Israel is erecting steel barriers and metal detectors around the most sensitive sites, and increasing security details near the al-Aqsa mosque.
"The Israeli police say that this metal detector is to check anyone they are suspicious of, despite the fact that in this street there is a military presence every couple of metres and the whole street has 40-50 security cameras. This is the Israeli failure here," said an Arabic merchant in Jerusalem's old city.
Even with bans on politicians, officials, and anyone under 50 from attending prayers at al-Aqsa, it remains a focal point for protest. Today will be a test of people's restraint and resolve, although right now that looks in pretty short supply.