EU Balkan refugee conference attempts to end divisions, offer more aid, and work with Syria's neighbours
Comments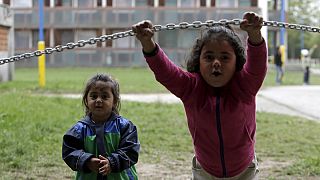 Today Italy relocates its first batch of refugees, Eritreans, to Sweden, and hopes the trickle will become a flood out of its overstretched refugee centres. On Thursday the EU held a high-level conference examining the Western Balkan route taken by many of them.
"I think the message tonight we register from Western Balkan countries, either EU or non EU members, is the will to have much better cooperation. And obviously this is something which the EU is not only encouraging very much but also welcoming very much," said the EU's Foreign Policy chief Federica Mogherini.
Hungary announced the Czech, Slovak and Polish governments had offered police to patrol the Hungarian-Croatian border, both EU members. It didn't go down well for some.
'I think that is a horrible idea, if you ask me. I think we need to work together like we did throughout this entire time. To work together and try to address the problem jointly. Because it's our common problem, we can not run away from it," said Croatia's Foreign Minister Vesna Pusić.
Formal agreements were signed to help Lebanon, Jordan and Turkey, and offer extra financial support to the Balkan region.
"The conference was billed by the EU as high level, but Turkey only sent its deputy foreign minister, Lebanon and Jordan were represented at an even lower level, by ambassadors. These are the three key countries which take the biggest burden and face the biggest task in solving the refugee crisis according to the EU," reports euronews' Sandor Zsiros.