And also... Clear skies over Syria,beard and moustache championships, stopping traffic and more
Comments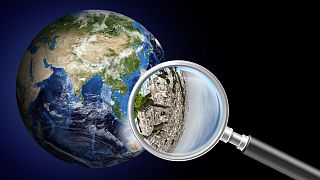 Every Friday journalists from euronews' various language teams choose a selection of stories from Europe and beyond, which did not reach the international headlines.
Russia: lovely weather for flying over Syria
Viewers in Russia perhaps got more than they bargained for when they tuned into a weather report aired on state television.
Russia's military operations in Syria became the unexpected focus of the forecast, with the weather woman using maps and tables to demonstrate the "excellent weather conditions for flights over Syria."
Hungary: no country for food packaging
A package-free shop is making waves in Hungary. Believed to be the first shop of its kind in central Europe, noPack asks customers to provide the packaging for all products it sells, whether they be herbs, spices, flour or vegetables.
Although it's only been open for a few days some 40 other shops are rumoured to want to adopt the concept.
Austria: World Beard and Moustache Championships
Leogang, Austria was the scene of this year's World Beard and Moustache Championships. Over 300 contestants from around the globe formed teams and competed in three categories: moustache; partial beard and full beard. The championships take place in different locations each time.
Photos: Best and burliest whiskers in the World Beard and Mustache Championship http://t.co/52HNaMaSXtpic.twitter.com/A7TfIiiMcF

— ABC7News (@ABC7News) octubre 7, 2015
Belgian: Turkey's First Lady stops traffic
While the Turkish president was in Brussels on official business, his wife Emine took the opportunity to indulge in a little retail therapy. However, her impromptu shopping trip caused traffic chaos on Brussels' Avenue Louise, which is well-known for its designer shops. Residents took to social media to complain about the security detail trailing the First Lady.
Emine Erdoğan Brüksel'de alışveriş yaptı; mağaza halka kapatıldı http://t.co/3Jxrhyb57Fpic.twitter.com/zGkWrz1xXa

— zete (@zetegazete) October 6, 2015
Malaysia: orangutan mother and daughter pair re-released into wild
They were rescued from an oil palm plantation just before their home was destroyed. Now, orangutan Ah Foo and her 18-month-old daughter Kebaco have been re-released into the wild.
Photos of the cute couple can be found below.
Baby orangutan and her mother are released after rescue – in pictures http://t.co/CsV5Tdt8Uxpic.twitter.com/J8RRIrMVBy

— The Guardian (@guardian) 6 Octobre 2015