Kosovo opposition MP detonates 'smoke bomb' in parliament
Comments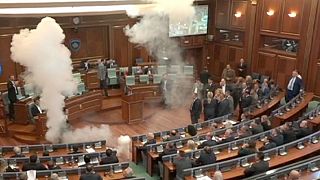 An opposition lawmaker in Kosovo appears to set off a smoke bomb in parliament.
Albin Kurti is against an EU-brokered deal to improve relations between neighbouring Serbia and its former southern province.
Other opposition MPs blew whistles to try and disrupt the session and show their disapproval for recent agreements with Serbia.
Two months ago the prime ministers of Kosovo and Serbia signed energy and telecoms deals after EU-brokered talks.
The deal is a step closer to EU membership for Serbia and will give greater rights to Serbs living in northern Kosovo. They will be be able to manage their local economy as well as having access to funding from Serbia.
Kosovo will now get its own telephone country code in what has been described as Serbia's recognition of its former southern province's sovereignty.
Kosovo declared independence from Serbia in 2008, a decade after NATO airstrikes drove out Serbian forces from Kosovo. That halted massacres and expulsion of ethnic Albanian civilians during a two-year brutal counterinsurgency campaign.
Serbia has refused to recognise Kosovo's secession.