Germany, Portugal and Northern Ireland play to secure place at Euro 2016
Comments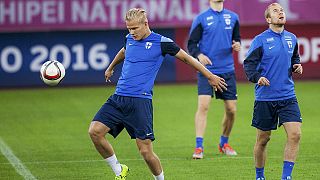 Germany only need one point against the Republic of Ireland on Thursday to qualify for the Euro 2016 finals.
Ireland can only be certain of a place if they win in Dublin.
They may have the home advantage but against the World Champions it may count for little.
Last time the Germans paid a visit was in 2012 and they took away a 6-1 victory.
Elsewhere in Group D Poland, lying at second behind Germany, will play Scotland in Glasgow, while Georgia play at home against Gibraltar.
Over in Group I leaders Portugal are hoping the seal their place in the finals by beating nearest rivals Denmark, as they have done in ten of their previous fifteen encounters.
They will be hoping Ronaldo can work his magic a little quicker than when they last met in Copenhagen last October when he waited until five minutes into added time before scoring the winning goal.
Portugal have won their last five Group I encounters.
Even if Denmark do win they would only be assured of a place at the finals if rivals Albania drop points at home to Serbia, who are already out of contention.
Over in Group F Northern Ireland need a win against luckless Greece to make certain of reaching the finals of UEFAEURO 2016 – which would be their first European final.