Cameron vows to fight for better deal in EU negotiations
Comments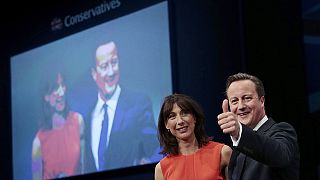 United Kingdom Prime Minister David Cameron has drawn battle lines for negotiations with Brussels ahead of the crucial referendum on Britain's membership of the European Union. In his keynote speech at the Conservative Party's annual conference in Manchester he told delegates he has no emotional attachment to the EU.
"Now we all know what is wrong with the EU. It's got too big, too bossy, too interfering. Believe me, I have no romantic attachment to the European Union and its institutions. I'm only interested in two things: Britain's prosperity and Britain's influence. That is why I'm going to fight in this renegotiation so we can get a better deal with the best of both worlds."
The PM vowed to devote much of his time in office to "an all-out assault on poverty".
He brought the hall to its feet with a strongly worded attack on the recently appointed leader of the Labour opposition, Jeremy Corbyn.
"He thinks the death of Osama bin Laden was a 'tragedy'. No. My friends, we cannot let that man inflict his security-threatening, terrorist-sympathising, Britain-hating ideology on the country we love."
The prime minister who said he will stand down before the next election promised to end discrimination to "finish the fight for real equality" and to tackle "big social problems" including extremism and "segregation" caused by faith schools.