Turks abroad get ready to vote in key general election
Comments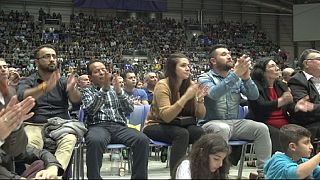 Turkey goes to the polls ahead of key elections on November 1.
For those Turks living in Europe the campaign is already in full-swing.
As many as three million Turks live in Germany something the political parties back home cannot ignore.
The leader of the HDP Kurdish party Selahaddin Demirtas has been speaking in Frankfurt.

Selahattin Demirtaş: ''Kürtler daha ne yapsın?'' ➤ http://t.co/vhYiqzL60spic.twitter.com/eVUN3irzt4

— CNN Türk (@cnnturk) October 5, 2015
"I think it will be a similar result to last time. Maybe the ruling AKP and CHP will form a coalition," said one Turk in Germany.

Turkish ruling party popularity drops ahead of early elections http://t.co/y5wXcTuIycpic.twitter.com/FQEuHifdCf

— Press TV (@PressTV) September 21, 2015
Those turks living in Europe get the opportunity to vote early with ballots accepted between the 8 and 25 of October.
Our correspondent in Frankfurt Zeki Saatchi says: "The sheer number of voters registered abroad makes up 5 per cent of the total electorate. This can help the HDP pass the vital 10 percent threshold to get into parliament or assist the AKP to get an absolute majority."