Israeli right-wingers call for government crackdown on Palestinian violence
Comments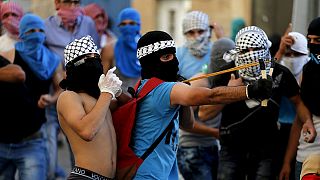 Thousands of Israeli right wingers, settlers and their supporters used the celebration at the end of the Sukkot holiday to urge the government to crackdown on rising violence in East Jerusalem.
Over the past week there have been several Jewish deaths and more injured in attacks by Palestinians.
Prime Minister Benyamin Netanyahu has already announced his security cabinet will authorise harsher measures including razing the homes of Palestinians responsible. More army personnel will also be deployed in the West Bank and Jerusalem.
However, the violence has been a two way affair. On Monday a 13 year-old Palestinian boy was buried after being shot dead by Israeli security forces.
Tensions have been inflamed in recent weeks at Jerusalem's al-Aqsa mosque compound. It's a site revered by both Palestinians and Jews – the latter calling the area Temple Mount.
Palestinians are said to fear that Jewish groups are trying to erode Muslim religious control of the site.
The US has called for calm while the UN's chief Ban Ki-moon has warned of a dangerous slide towards escalating violence.