Sochi 2015: Russia's expensive Olympic village falling into ruin
Comments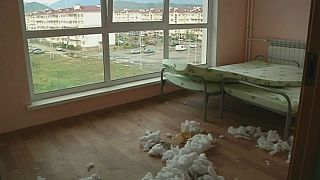 Eighteen months after Russia hosted the most expensive winter Olympics ever in the Black Sea resort of Sochi, the complex built to accommodate volunteer workers, media teams and other officials has fallen into ruin.
Some people are living in the apartments but claim they are not being maintained, and that people are stealing the fittings from the buildings.
"Look, the towel dryer has been taken away," said resident Galina Golubtsova. "This is the same in every other flat here. Towel dryers, heaters and sinks are taken away. I came here in June. 'Switch on the water and I'll move in here I said'. But it was only in March the year after that they turned on the water and electricity."
Two months after the end of the games, the organising committee said that every site built had a very clear strategy, not just for the games, but for after the event as well. It was claimed that there would be no white elephants.