Death toll rises in Guatemala landslide
Comments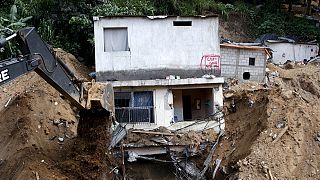 Authorities in Guatemala say there is little hope of finding any more survivors from last Thursday's landslide which swept down on to a town near the capital.
The death toll is officially 131 with 300 still missing. Rescue efforts were suspended on Sunday and they are due to resume later today if weather conditions improve.
The El Cambray II neighbourhood, which was battered by the landslide, lies at the bottom of a deep ravine ringed by trees.
Officials have previously flagged risks of flooding and landslides saying in a report last year that construction permits should never have been granted for the neighbourhood.
The report also recommended local authorities consider relocating families living in the area, but as in many other towns in the impoverished Central American country with a history of catastrophic landslides, residents remained.
In 2005, hundreds of people were killed when torrential rains triggered a landslide that buried the village of Panabaj. Many of the bodies were never recovered.
The question of how to avoid these disasters comes just as Guatemala is preparing to elect a new president in a second round run-off on October 25.