No more survivors expected after Guatemala mudslide
Comments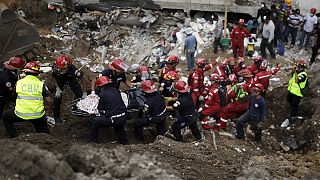 Hopes fade of finding any remaining survivors under the rubble of a collapsed hillside on the outskirts of Guatemala City. At least 73 people have been killed, with hundreds of others still missing.
Some houses were buried under 15 metres of earth, rock and trees. The country's disaster agency does not expect to find any more survivors.
"We've joined together all the resources we have at hand — all the human and technical resources of of the interior ministry, the national civil police — and really come together in this effort because of this unfortunate event that has really moved not just the country, but it's moved other countries at an international level," said Elmer Sosa, Guatemala's Deputy Interior Minister
Authorities say they did not rescue a single survivor on Saturday despite a team of 1,800 volunteers and fire fighters.
Since the tragedy hit some 400 survivors have been evacuated to an emergency shelter where they have been getting food and supplies.