Portugal parliamentary elections underway
Comments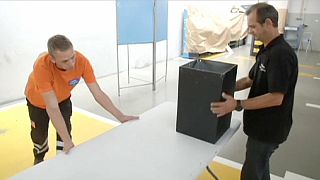 Portugal is voting in parliamentary elections today (October 4). Portuguese league football matches, which are not traditionally scheduled to take place on polling days, will not stop today.
The country's abstention rate, which is usually quite high, may be pushed even higher.
The country's prime minister has reminded people to make time to vote.
In a televised address, Aníbal Cavaco Silva, said: "Between professional and family duties, watching football matches or other sport and leisure activities, don't forget to go to the polls between 8 a.m. and 7 p.m."
At Lisbon's Mercado da Ribeira on Saturday (October 3) the mood over the countries future was mixed.
Rosa Maria, owner of Rosanamar Fishmonger, said she was confident things in Portugal would get better and her business, for one, had improved compared to five years ago.
"My business is doing better; we also get lots of tourists which has helped business a bit. Compared to five years ago it's better," she said.
Lisbon resident Rita, who was getting ready to buy fish from Rosa Maria, however, said her situation had not improved and she had little hope things would change in the country.
"With the crisis we earn less, taxes are higher, money is worth less, and we don't get pay rises. I haven't had a raise in 14 years, but prices keep going up. People's living conditions and quality of life are worse," she said.
A win for Passos Coelho would mark a break with other southern Europe countries, such as Spain and Greece, which have seen austerity-minded governments punished at the ballot box.
Costa has promised to ease austerity and return more disposable income to families.
Political consultancy Eurasia said it had downgraded Portugal's short-term outlook to neutral from positive because the government may have to rely on the Socialists for support to pass policy through the 230-seat parliament.
The austerity that made the country more competitive has led to a brain drain of youthful talent. That will set back the country's economic recovery regardless of who wins today's vote.