Israeli police and Palestinians clash after stabbing attacks
Comments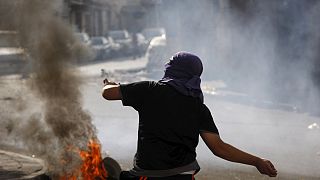 Fresh clashes have erupted between Israeli police and Palestinians in east Jerusalem.
The unrest came just hours after two stabbing attacks left two Israelis dead and three wounded.
Both attackers were shot dead by police. One of them was from the east Jerusalem neighbourhood of Issawiya.
A masked man in the area said that people do not feel represented by Palestinian leader Mahmoud Abbas.
"He's a 'collaborator'" the man said.
"He's working together with Israel and has prevented the beginning of the 3rd Intifada."
Another man said that protests have been caused by Israel intrusions at the al-Aqsa mosque compound in Jerusalem.
Also, he said, by "aggression perpetrated by occupation forces against Palestinians."
Israeli police have barred Palestinians from
visiting Jerusalem's Old City in the wake of the violence.
Those who live, work and study in the area still have access, along with Israelis and tourists.
The latest bloodshed, which also includes a drive-by shooting in the West Bank that killed an Israeli couple, has triggered concerns of wider escalation – especially in the absence of peace talks that collapsed in 2014.