Catholic synod overshadowed by Church's 'homophobia'
Comments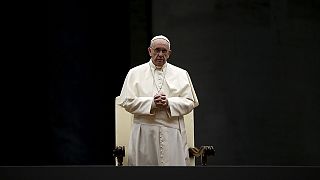 Pope Francis presided over a vigil in St. Peter's Square on Saturday (October 3) ahead of the synod, a three-week meeting of bishops from around the world on issues relating to the family.
I came out. This is a very personal, difficult and tough decision in the Catholic church's homophobic world.
Debate is expected to be vibrant with hardliners digging in and refusing changes to church outreach towards Catholics who are gay or divorced and progressives looking for a more open approach.
"Let us pray that the synod will show how the experience of marriage and family is rich and humanly fulfilling," said the pontiff. "May the synod acknowledge, esteem, and proclaim all that is beautiful, good and holy about that experience."
Meanwhile a high-ranking Vatican official was fired from his Holy See job after coming out as gay. Monsignor Krzysztof Charamsa said he wanted to apply "good Christian pressure" not to forget gay believers.
Charamsa said he wanted to make an enormous noise "for the good of the church" which he described as homophobic and very difficult and harsh.
"It's time for the Church to open its eyes about gay Catholics and to understand that the solution it proposes to them — total abstinence from a life of love — is inhuman," he was quoted as saying.
He suggested that a study be made of how many gay people work in the Vatican. "We can't continue showing contempt and offence towards homosexuals," he said.
The issue of homosexuality and the Church has dominated the aftermath of the pope's visit to the United States last week.
The Vatican has been embarrassed by a row over the pope's meeting during his US trip with Kim Davis, a county clerk from the US state of Kentucky who went to jail in September for refusing to honour a US Supreme Court ruling and issue same-sex marriage licences.
Vatican fires gay priest on eve of meeting of world's bishops to discuss outreach to gays http://t.co/fjgSPZI7Hdpic.twitter.com/Mv3aeYHa8o

— ABC7 Eyewitness News (@ABC7) October 4, 2015