Portugal set for Sunday's election
Comments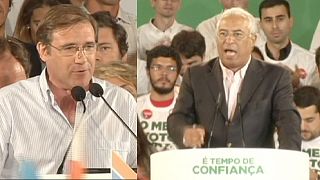 Portugal is all set for Sunday's general elections. The country's prime minister Passos Coelho has made a final push to boost his chances of not only winning, but also of securing an absolute majority.
His campaign has focused on his record of guiding the country through an economic crisis and back to growth.
His centre-left Socialist opponent Antonio Costa also appealed for more support.
On the campaign trail in the Portuguese capital Lisbon Costa promised to ease austerity and return more disposable income to families.
Portugal heads to the polls with a stronger economy than four years ago. But the austerity that made the country more competitive has led to a mass exodus of youthful talent that will set back the recovery regardless of who wins.