Kunduz attack may amount to war crime - UN Human Rights chief
Comments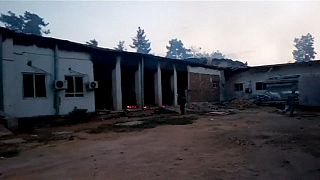 The US military said it launched an attack around the time a Médecins Sans Frontières (MSF) charity hospital in the Afghan city of Kunduz was hit by an airstrike, killing 19 people: staff, patients and children.
MSF demands a full and transparent account from the Coalition regarding its aerial bombing activities over Kunduz on Saturday morning.
"The strike may have led to collateral damage to a nearby medical facility," according to a statement from US Army Colonel Brian Tribus, Spokesman for US Forces in Afghanistan.
UN Human Rights chief Zeid Ra'ad Al Hussein led a chorus of condemnation, noting that an assault on a hospital could amount to a war crime.
"This event is utterly tragic, inexcusable, and possibly even criminal," he said.
The hospital attack constitutes a grave violation of International Humanitarian Law, "according to an MSF statement:"http://www.msf.org/article/afghanistan-msf-demands-explanations-after-deadly-airstrikes-hit-hospital-kunduz
The medical charity, also known as Doctors Without Borders, said its staff phoned military officials at NATO in Kabul and Washington during the morning attack, but bombs continued to rain down for nearly an hour.
"All indications currently point to the bombing being carried out by international Coalition forces," MSF said, demanding "a full and transparent account".
On bombing of MSF</a> hospital in Kunduz: "We cannot accept that this horrific loss of life will simply be dismissed as 'collateral damage.'"</p>&mdash; MSF International (MSF) October 3, 2015
MSF said it had given the location of the hospital to both Afghan and US forces several times in the past few months, most recently this week, to avoid being caught in crossfire.
"The hospital is there since four years; it's a large hospital, the compound is larger than a football ground," pointed out MSF Director of Operations Bart Janssens. "And we have several times communicated through the GPS co-ordinates the exact location of the hospital to all warring parties in Afghanistan. So we really don't understand and we definitely do not accept the notification of collateral damage as we heard in the beginning in the first reaction."
A statement from the UN Secretary General Ban Ki-Moon has expressed "strong condemnation" for the attack.
It said "…hospitals and medical personnel are explicitly protected by humanitarian law."
#Kunduz Deeply outraged- All indications currently point bombing being carried out by international Coalition forces

— Dr Joanne Liu (@JoanneLiu_MSF) October 3, 2015
This is how we remember our #Kunduz hospital. 3-year-old Tamim plays with a balloon. (C MSF/Nora Guicheney) pic.twitter.com/yfd8zElAKo

—

MSF

UK (@MSF_uk) October 3, 2015