Syria says air strikes alone will spread terrorism
Comments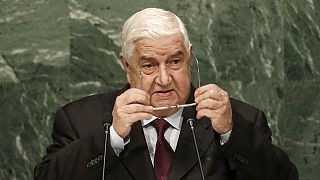 As the international coalition against ISIL and others called on Russia to halt air strikes on targets in Syria.
Russia responded by stating the air campaign would last for three to four months.

LIVE: Russia's new round of air strikes in Syria, hits 12 targets. The latest updates: http://t.co/YKdtyO18glpic.twitter.com/FeMAmw5PoW

— Reuters Top News (@Reuters) October 2, 2015
Syria's Foreign Minister addressed the United Nations and explained the country's government is focused on the war:
"Syria can not take policy measures to arrange elections or the constitution as terrorism spreads across the country killing innocent victims."
#Syri FM Walid al Moualem: we accept proposals of #deMistura#GenevaIIIpic.twitter.com/1PwXLWV6yP

— Pamela Falk (@PamelaFalk) October 2, 2015
The foreign secretary added that cooperation between ground and air forces were key to success.
"We can not combat terrorism only by air strikes. Without the collaboration of the Syrian Arab army air strikes alone simply spread terrorism."
#Syria FM Walid al Moualem now @UN GA @UNwebcast In Syria security disrupted peace discarded "Why all the silence?" pic.twitter.com/5zGk5FRqhr

— Pamela Falk (@PamelaFalk) October 2, 2015
The Syrian military say that Russia has carried out 18 air attacks since Thursday, a number in Aleppo, Hama and Idlib, areas with a sparse ISIL presence.