Migrants rush to Europe before weather deteriorates
Comments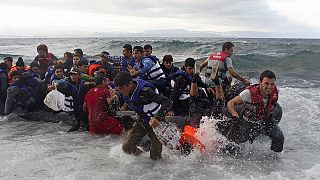 As the weather starts to worsen, it seems an increasing number of migrants are heading for Greece.
People continued to arrive on the island of Lesbos on Friday, where the office of a former Greek justice minister was set on fire. Police think the attack could be linked to the influx.
Weather conditions are set to deteriorate in the coming weeks, with a drop in temperatures.
This will further increase the dangers of crossing the Aegean sea between Turkey and Greece by boat, the most perilous leg on the journey to safety for the vast majority of people escaping conflicts in Syria, Iraq and Afghanistan.
"When we got in the dinghy and I saw the huge waves, I wanted to turn back. But where could I go back to?" asked one Syrian man, who reached the shores of Lesbos.
"We were forced to flee. I was afraid for my children, if anything happened to them I would be responsible."
Thousands of other migrants are using the so-called Balkan route to reach Europe.
On Friday, in Croatia, more than a thousand people travelled by train to a village near the Hungarian border. From there, they headed towards Hungary on foot.
Croatia says it has been overwhelmed with migrants after Hungary closed off its border with Serbia.