Voter apathy grips Portugal ahead of Sunday's general election
Comments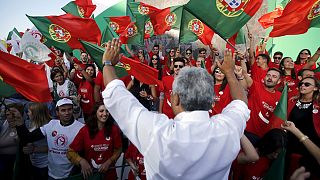 Voters in Portugal look set to express their dissatisfaction with traditional politics by not voting in Sunday's general election.
In 2011 a record 41.9 percent of the electorate stayed away and the polls suggest a similar scenario this time round.
"Nós fechámos um capítulo dos mais difíceis do Portugal contemporâneo" – Pedro Passos Coelho. #somosmais em #Lamego. pic.twitter.com/xk7lEIDfpA

— Portugal À Frente (@PortugalAFrente) September 30, 2015
In the capital Lisbon political pessimism is the order of day:"I'm not expecting anything better. Things aren't going to get better. They are all theives," said Maria Rosario one of many disillusioned voters.
As for the state of the parties Prime Minister Pedro Passos Coelho's centre-right ruling coalition has edged in front of the opposition Socialist Party.
Between a rock and a hard place: tough times for the Portuguese Socialists: http://t.co/83g87Q3L6Mpic.twitter.com/gvL8T2N1RM

— The Staggers (@TheStaggers) September 23, 2015
The only avenue for protest appears to be the anti-euro Communist Party running at 11 percent in the polls.
Polls suggest anti-austerity stance will boost Portugese Communist Party to its best result since 1987 (10.4%) http://t.co/9oUVYCmRZQ

— Sander Vandecapelle (@SanderVDCapelle) September 7, 2015
Whatever the result, fiscal discipline is the mantra of all the major parties.
That is something the markets applaud as Portugal attempts to get its economy back on track following the €78bn bailout of 2011.