Turkish soldiers killed by suspected Kurdish militants in Diyarbakir
Comments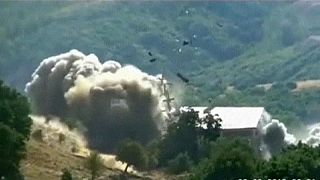 Τwo Turkish soldiers have been killed by suspected Kurdish militants in Turkey's southeastern province of Diyarbakir.
Deadly clashes have surged across the mainly Kurdish region since July, when a long-standing ceasefire between the PKK and the government collapsed, with both sides blaming the other.
The PKK is the outlawed Kurdistan Workers Party, the rebel group behind a recent string of recent attacks on Turkish soldiers and police. It is considered a terrorist group by Turkey, the US and the European Union.
About 40,000 people have been killed since the PKK launched an insurgency for greater Kurdish autonomy in the 1980s.
More than 120 security personnel and hundreds of militants have been killed since the ceasefire broke down.
Militant attacks have triggered anti-terrorism protests and nationalist anger against Kurds and the main pro-Kurdish opposition party ahead of next month's parliamentary election