Turkish hostages released in Baghdad after a month in captivity
Comments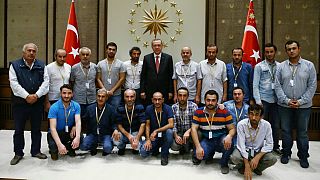 A group of 16 Turkish nationals taken hostage by a little-known armed Islamic group a month ago have been released.
They are already in Turkey after having been freed south of Baghdad, and are seeing their families again.
"I am reunited with my family and that's all I ever wanted. Thanks a lot to our statesmen. That's all I can say.'
"What did you think about while you were kept as hostage?"
'I really didn't think about myself. I just thought about my family," said one worker.
"We were always longing and yearning for our families. They treated us very well where they kept us. We didn't have any problems. We were released because of the government. We're very thankful," said another.
The men were kidnapped while they were building a stadium near Baghdad by men suspected of being in a little-known Shi'ite militia.
Kidnappings are on the rise in Baghdad as a method of funding terrorism and exerting political pressure on the authorities.