Netanyahu: world's response to Iran menace is "absolutely nothing"
Comments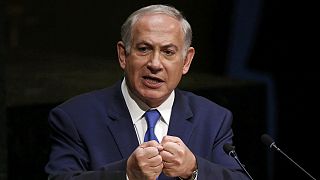 Israeli Prime Minister Benjamin Netanyahu spoke at the United Nations General Assembly and was unequivocal in his criticism of the Iran nuclear deal. It does not make peace more likely, he said it makes war more likely and he added the deal does not block the path to nuclear weapons.
He responded to Palestinian Authority President Mahmoud Abbas's speech 24 hours earlier.
"I'm prepared to immediately, immediately resume direct peace negotiations with the Palestinian authority, without any pre-conditions whatsoever. Unfortunately, president Abbas said yesterday that he's not prepared to do this. Well I hope he changes his mind".
On Syria he said Israel would respond forcefully to any attacks from that country. And when he recalled Israel's warnings of the potential threat from Iran he showed his grasp for the dramatic moment.
"The response from nearly every one of the governments represented here has been… absolutely nothing. Other silence. Deafening silence".
At that point he remained silent himself gazing intently around the representatives in the hall.
You can watch the entire speech here: