Afghan army 'recaptures Kunduz' from the Taliban
Comments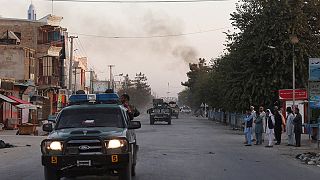 It has taken days but Afghan officials say government troops have recaptured much of the strategic northern city of Kunduz from the Taliban.
The counteroffensive was helped by US airstrikes and NATO special forces on the ground.
But it has proved difficult with insurgents battling to hold onto Kunduz, seized on Monday in their biggest victory since the US-led invasion of Afghanistan in 2001 toppled their regime.
The Taliban has denied the government is back in control, claiming the militants are resisting Afghan soldiers.
Heavy fighting is said to be continuing on the outskirts of the city but Afghan Interior Ministry Spokesman Sediq Sediqqi said Kunduz was now being cleared of insurgents.
AFG Special Security Forces now controls Kunduz City, it is retaken and being cleared from terrorists, heavy causality to the enemy

— Sediq Sediqqi (@moispokesman) 30 Septembre 2015
Up to 200 Taliban fighters are reported dead. It is unclear how many civilians may have been caught in the crossfire.
A full recapture of Kunduz would mark a huge relief for Afghan President Ashraf Ghani who faced calls for his resignation over the loss of the city.