Mumbai court condemns five to death for deadly train bombings
Comments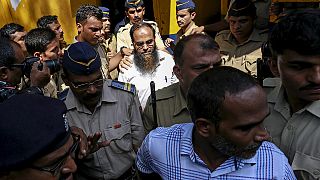 A Mumbai court has sentenced five men to death for the serial bombings of commuter trains in the sprawling city.
#मुंबईस्फोट: 11 मिनिटात 7 स्फोट, 9 वर्षांनी निकाल, 12 दोषी ! http://t.co/yJABGrGSOSpic.twitter.com/PAbhaEkj5E

— ABP माझा (@abpmajhatv) September 11, 2015
In July 2006 seven bombs, planted in first class carriages, exploded in the evening rush hour.
Some 189 people were killed with 800 injured.
#मुंबई: 7/11 सीरियल ब्लास्ट केस में 9 साल बाद आया बड़ा फैसला http://t.co/Wc6OA42QSzpic.twitter.com/K4Bc2wbaWk

— आज तक (@aajtak) September 11, 2015
Seven other men have been handed life sentences.
Indian authorities believe the attacks were launched by SIMI Islamists backed by Pakistan.
12 convicted for 7/11 Mumbai train blasts: http://t.co/Rx6fQ6tYzkpic.twitter.com/8qrh8IWI6H

— The Asian Age (@TheAsianAgeNews) September 12, 2015
Islamabad denies any involvement and the defence lawyer for the convicted says the men are "innocent" and "framed."
One of the accused has been acquitted.
The 13 were arrested between July 2006 and October of the same year.
Following their detention 11 signed statements admitting involvement, they have since been retracted.
The men are to appeal.

BBC News - Mumbai 2006 train bombing victim Parag Sawant dies http://t.co/jf5cPAYKXJ

— Mr Normal ن (@PaulWilko657) July 8, 2015