Hajj: Saudi authorities reject queries over death toll
Comments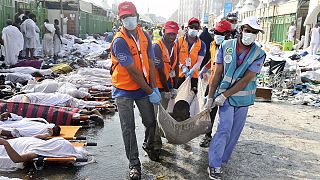 The Saudi authorities have denied suggestions that more than a thousand people died in the tragedy last week – and say the death toll stands at 769.
Foreign officials had questioned the figure, saying they had been sent pictures showing over a thousand dead.
"The Saudi government has released pictures of 1,100 martyrs from countries around the world. 1,100 pictures of Hajjis who were murdered in Mina. These pictures are available at our embassy in Jeddah." said Tariq Fazal Chaudhry from Pakistan's governing PML-N party.
The Saudi authorities say the images included deaths from natural causes and 109 people who perished when a crane collapsed at the Grand Mosque.
Iran, Saudi Arabia's regional rival, lost 228 citizens in the stampede. President Hassan Rouhani wants a full investigation.
"Saudi Arabia should carry out its legal and international obligations towards foreign citizens and pilgrims of the house of God. The incident should be fully investigated to see how it happened and what caused it."
The crush happened when two groups of pilgrims converged as they took part in the last major rite of the Hajj – throwing stones at the pillars of Jamarat.