Castro calls for end to US trade embargo
Comments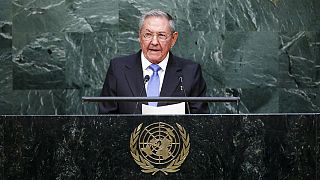 Cuban leader Raul Castro has used his address at the UN to call for the US trade embargo, in place for more than five decades, to be lifted.
He also wants the US to return the military base at Cuba's Guantanamo Bay and end anti-communist broadcasts to the island.
Havana and Washington earlier this year restored diplomatic relations but issues over human rights remain..
"After 56 years of heroic and selfless resistance by the Cuban people, diplomatic relations were re-established between Cuba and the United States of America. Now, a long and complex process begins toward the normalization of relations that will only be achieved with the end of the economic, commercial and financial blockade," said President Castro.
Later Castro met with Russia's President Putin. The two countries have have been close allies since the days of the Cold War and Moscow has criticised the US embargo as an example of unilateral action in violation of the UN charter.
http://www.globalresearch.ca/the-u-n-resolution-condemning-the-us-trade-embargo-on-cuba/5478477