Ukraine talks on agenda as world leaders meet at UN in New York
Comments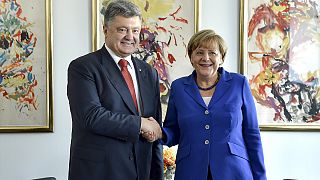 While Syria is the key talking point at this year's gathering of world leaders at the United Nations in New York, efforts to resolve the conflict in Ukraine continue.
Each day of this war in Donbass costs us about five million US dollars
Ukrainian President Petro Poroshenko held talks on Sunday with German leader Angela Merkel about the peace plan she helped to broker.
And, in the General Assembly Hall, he told the UN Sustainable Development Summit about the social impact of having to devote resources to fighting pro-Russian separatists.
"The external aggression has led to the emergence of the new form of poverty – sudden and unexpected poverty that affects one and a half million of the internally displaced persons. Each day of this war in Donbass costs us about five million US dollars," he said.
Last week, Ukraine and some of its Western allies condemned a decision by pro-Russian separatists to ban most foreign aid organisations from parts of rebel-held territory, saying that the move violated the Minsk peace agreement.
The banned groups, which include Medecins Sans Frontieres (MSF) and UN agencies, provide much-needed aid to civilians across eastern Ukraine, many of whose houses and livelihoods have been destroyed in some 18 months of fighting between Ukrainian forces and rebels seeking independence.
Winter is about to hit Ukraine. We appeal for unhindered humanitarian access to bring aid http://t.co/I5ODgSRyGxpic.twitter.com/7z9q4WLb8D

— UN Refugee Agency (@Refugees) September 26, 2015
Also taking to the podium at the UN was Russian Foreign Minister Sergei Lavrov who met his US counterpart John Kerry to discuss Ukraine as well as the Syrian crisis.
While the bloodshed is at its lowest point since a ceasefire was signed seven months ago, sporadic violence continues and Western diplomats say the Minsk peace deal has, by no means, been fully implemented
Close to 8,000 people have been killed since fighting broke out in April 2014.