Kunduz: Afghan special forces sent to city stormed by the Taliban
Comments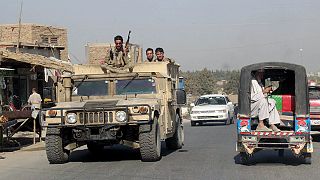 Afghan special forces are being deployed to the strategically-important city of Kunduz, where heavy fighting is underway.
We will defend this territory to our last drop of blood
Taliban forces have seized control of half of the city, occupying government buildings and a prison.
Hundreds of inmates have been freed.
In a key northern position, Kunduz is strategically important for the government.
But as their northern power base before they were ousted 14 years ago, it is spiritually important for the Taliban.
There has been an upsurge in violence in the region since NATO wound up its combat mission at the end of 2014.
"All our Afghan forces are fighting the enemy. We will defend this territory to our last drop of blood and until we are confident they can do no more." said Qasim Jangal Bagh, the Kunduz Chief of Police.
If Kunduz falls, it will be the first city to be taken by the Taliban since the 2001 US-led invasion.
"The militants are close to the four entrance gates of Kunduz. They have taken all the villages near Kunduz and no one can go near." one resident told reporters.
Panicking residents are trying to flee the city.
Many have made their way to the heavily-fortified airport nearby.