Catalan separatists celebrate major win in regional poll
Comments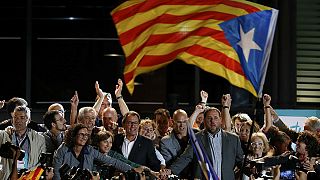 Celebrations in Barcelona as pro-independence parties win a clear majority of seats in Catalonia's regional parliament.
In what was billed as a defacto referendum on splitting from Madrid, the acting regional government head and fellow separatist leaders vowed to declare independence within 18 months.
"Tonight the Yes vote has won, but democracy has also won. And that is very important. Two victories in one. The Yes and democracy," said acting Regional President Artur Mas.
Oriol Junqueras, whose party ERC is a member of the main separatist "Junts pel Si" alliance added:
"Having this legitimacy, with a high turn out and an absolute majority in the Parliament, and having more citizens voting for independence than against, we have all the requirements, with no excuses, to accomplish this democratic mandate given to us by the Catalonian people"
Together the main separatist alliance "Junts pel Si" ( Together For Yes ) and the smaller CUP party won 72 of the 135 -strong assembly, however they still polled less than 50% of the vote. Opinion polls suggest a majority of Catalans favour a referendum on independence but are evenly divided over whether they want to secede.
Spain's constitution does not allow any region to break away, so the prospect remains highly hypothetical. Analysts believe the most likely outcome of the election will be to force a dialogue between Catalan and the Spanish authorities.
Reporting for euronews Cristina Giner said that the exceptional and historic results reflected the strength of the independence process and ask several questions about Catalonia and the rest of Spain just three months before a general election. at the end of December.