Austria: exit polls suggest the far-right FPO has doubled its vote in a regional election
Comments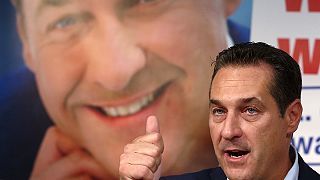 Exit polls suggest the far-right FPO have doubled their vote in regional elections in Upper Austria.
Preliminary results indicate the party got more than 31 percent support, compared to 15 in 2009.
For party leader Hans-Christian Strache, the result has come as a surprise: "This result has surpassed our most optimistic expectations. It shows overwhelming confidence and overwhelming encouragement."
It is not enough to put the FPO in the lead, however.
The conservative Christian Democrats are in front on 35.5 percent – still a drop of more than 11 points.
Analysts think fears over the migrant crisis have shaped voting patterns in the state, the fourth biggest in Austria.
Austria has become a main transit country for refugees and migrants heading from the Balkans to northern Europe.
Vienna expects 80,000 asylum applications this year, proportionally high compared to other EU member states.