Young musician fleeing Syria dreams of peace
Comments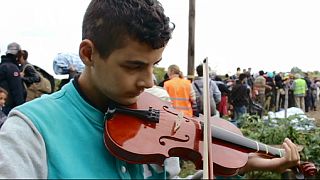 Thousands of asylum seekers continue to arrive at the Serbian border looking to move into Croatia and beyond.

In Pictures: Frustrated and worn out, refugees wait at Croatia-Serbia border (by @icmoldovan) http://t.co/0kXi9RVrqkpic.twitter.com/z0frTByDnv

— Al Jazeera English (@AJEnglish) September 25, 2015
In all such migrations of nations everyone has a story
One such is 13-year-old Alm Aldin from Hama in Syria.
He is travelling with his father and like most youngsters he has dreams: "Peace Peace and make everybody happy to work with other musicians that are better than me. To learn from them to be better. That is all I want."
"All I see in Syria is war. I just want this war to stop and to go back."
Sadly that is out of his young hands.